DONATIONS
СБОР ПОЖЕРТВОВАНИЙ НА ЧРЕЗВЫЧАЙНЫЙ ПРОЕКТ ФОНДА - "COVID 19"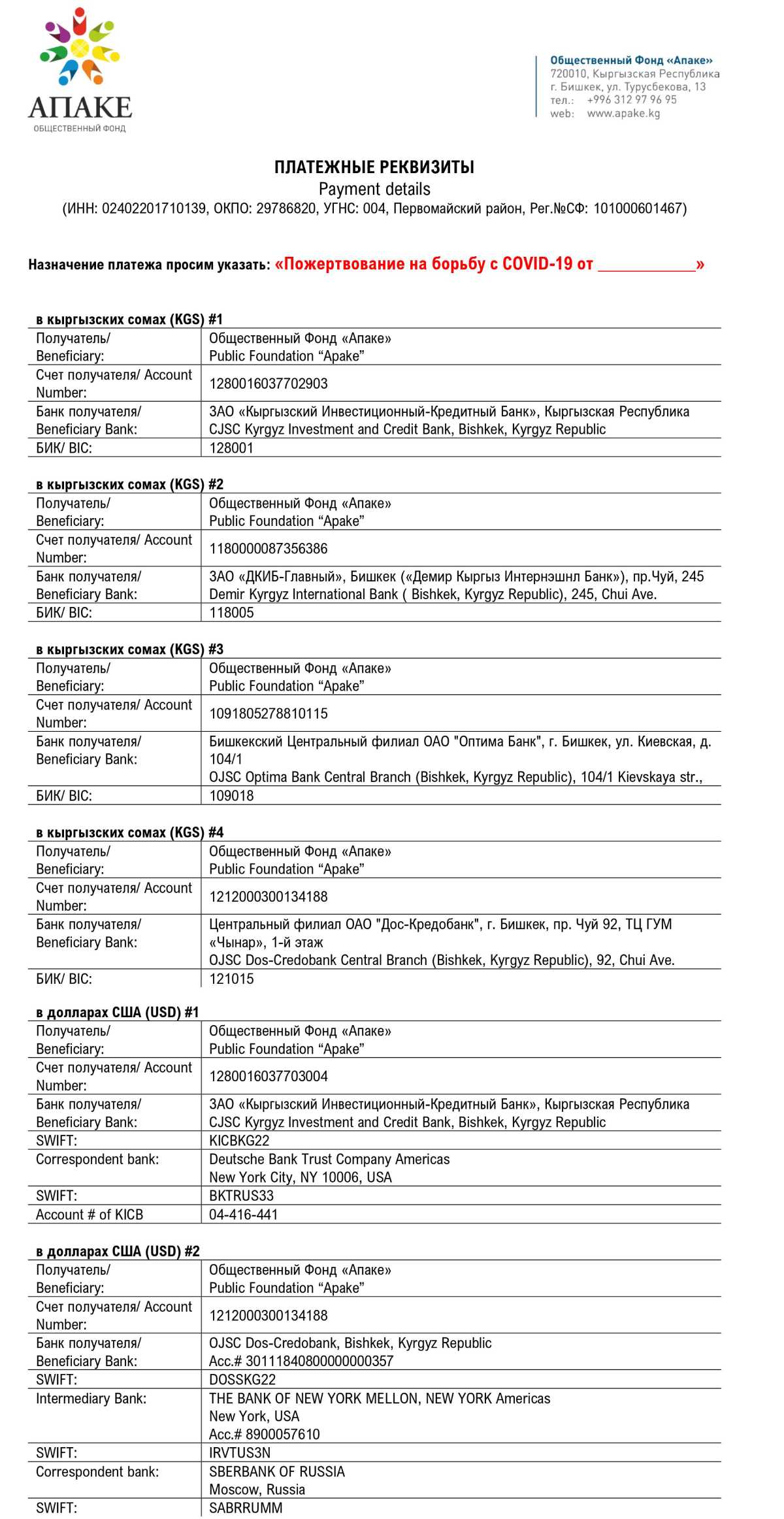 QUICK WAY TO DONATE FOR "APAKE" THROUGH QR BALANCE.KG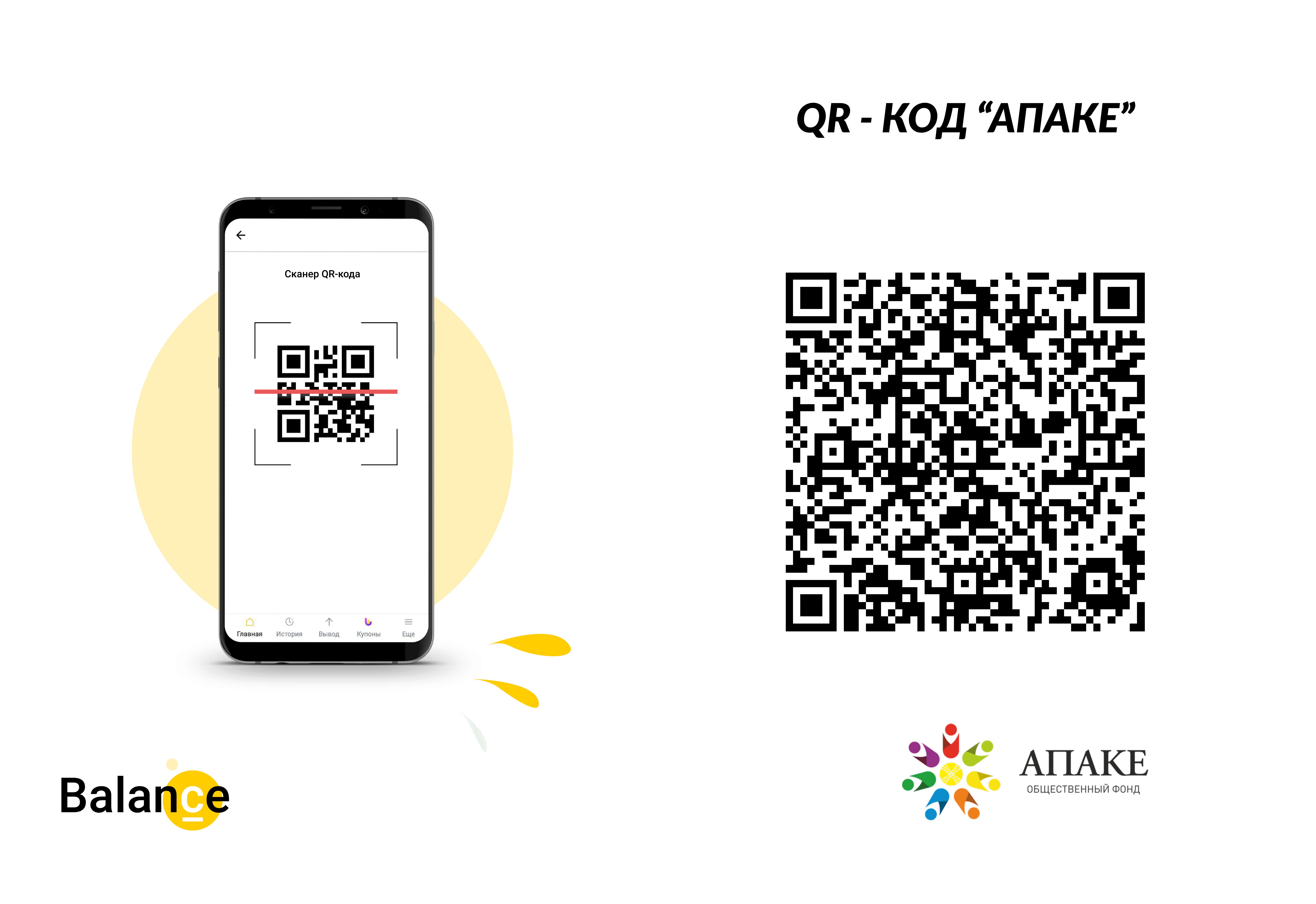 QUICK WAY TO DONATE FOR "APAKE" THROUGH QR ELSOM
Our Foundation was established and operates due to the voluntary contribution of the Founders and members of the Supervisory Board. The general donors of the Foundation are employees of the "Mol Bulak" company who are interested in improving our country and trust us. All of them show their corporate social responsibility and make monthly voluntary donations. All projects of the Foundation are based on these funds and other donations from all interested people who care about the future of social life of our country.
We guarantee transparency of your donations and detailed income and expense report by automating the cash flow. To ensure the transparency we have organized several options channels to collect donations:
We have a "box of goodness" in our office and everyone can leave a donation there. We register each of your donation in Finance report and use for the implementation of the statutory purposes of the Foundation.
Our foundation has connected the INTERNET ACQUIRING of the Uniteller company.

Now you can make a donation using your bank card directly on our website.

The payment process is very simple: you enter the donation amount, confirm your choice, enter the data for payment and click the "Pay" button. Simple and convenient!*

Uniteller guarantees the security and full protection of your personal information when making a payment. Uniteller service complies with the data security standard of the PCI DSS card industry. Round-the-clock monitoring of fraudulent transactions is conducted, which allows to identify attempts of illegal use of payment cards. Cooperation of our foundation with Uniteller is a guarantee of the security of your payments.

* Bank charges transaction fee
BANK ACCOUNT
HOW YOU CAN HELP
The donation is not the only way to help. You can learn other option.
Be a Partner of the Foundation
You can offer your goods and services from yourself or from your organization, taking into account the non-commercial nature of the Foundation. We will be happy to cooperate with you in the development of the infrastructure, such as the creation of PR tools, external communication channels in the media and television, photo and video services, printing services, graphic, web design and programming and other works and services.
Be a Friend of the Foundation
You can hold a charity event in any environment, at a meeting of friends, among your colleagues in the company. We will teach you how to combine business with pleasure - you will learn how to raise funds for projects and feel involved in a great social work.
Participate in the promotion of the Foundation
You can become a voluntary messenger of the Foundation by putting "like" and "share" our news on social networks on their pages. Your positive comments and feedback, the expansion of social media marketing will be a great part of strengthening the Foundation's positive image in social networks.
Participate in the Foundation's actions
You can participate in a charity event, buying your favorite products or entrance tickets to the event. Your organization may hold shares in favor of the Foundation. Such cooperation could be discounts from the sale of goods, tickets or services of the company. The Foundation allows you to use its name and logo to tell your clients about u but any actions must be agreed by us in advance.
Gifts
The Foundation implements social projects of different directions and scale. You can make a gift in the form of intellectual and tangible assets that are necessary for the implementation of projects such as architectural design, budget calculations for the project, construction, repair, automation and other highly specialized work.
Become an independent Donor
The Foundation allocates small grants for projects that it deems most relevant. You can finance projects that have not been selected and are not included in the "short list" of small grants and become an independent donor for them. We will teach you how to organize this work.
Place a banner
You can always place our banner on your website, social page and spread information about our projects and ways of assistance.
Become a volunteer
A volunteer devotes part of his free time to helping others free of charge. This assistance can be direct (to participate in the implementation of the projects) or indirect (you can be a volunteer in data collection for analysis, monitoring and research, volunteer-driver, etc.). We are waiting for you!