We teamed up - AGAINST COVID 19 IN KYRGYZSTAN!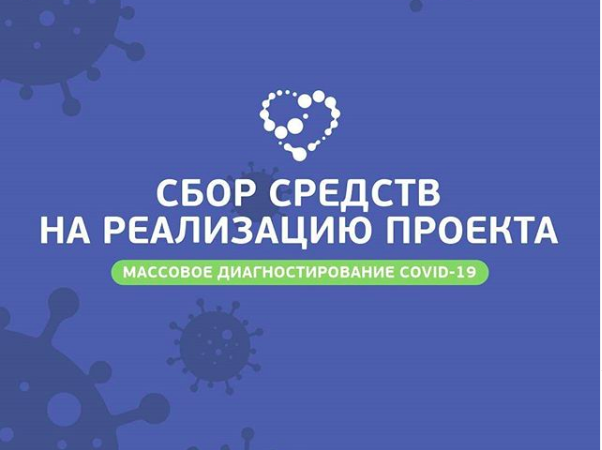 31 March 2020
An initiative group of philanthropists and entrepreneurs of Kyrgyzstan launches a social project on mass diagnosis of coronavirus in Kyrgyzstan.
Within the next few days, a diagnostic system by PCR (polymerase chain reaction) and IHLA (Immunochemiluminescent analysis) will be launched at the production base of the Bonetsky Lab network.
According to the project, the necessary equipment, supplies and reagents will be purchased. All this will make it possible to build a system for the mass diagnosis of viral infection based on 50 thousand laboratory tests for 20 thousand patients at the first stage of the project.
The project will be fully implemented with donations from entrepreneurs and philanthropists.
The fund becomes one of the sponsors of this project. And also, we announce an open collection of donations for the implementation of this initiative.
Our social authority and automated reporting on the Fund's website guarantees complete transparency of all receipts and their intended use.
Foundation Bank Details (Kyrgyz soms):
Recipient Name: Apake Public Foundation

Beneficiary Account: 1180000087356386

Beneficiary's Bank: DIKB-Glavny CJSC, Bishkek (Demir Kyrgyz International Bank), Chui Ave., 245
Foundation Bank Details (US dollars):
Recipient / Beneficiary Name: Apake Public Foundation

Beneficiary Account / Account Number: 1280016037703004

Beneficiary Bank: Kyrgyz Investment Credit Bank CJSC, Kyrgyz Republic / CJSC Kyrgyz Investment and Credit Bank, Bishkek, Kyrgyz Republic

SWIFT: KICBKG22

Correspondent bank: Deutsche Bank Trust Company Americas New York City, NY 10006, USA

SWIFT: BKTRUS33

Account # of KICB 04-416-441
A complete list of the Fund's details for this project can be downloaded here - "COVID 19" FOUNDATION ACCOUNT!
Dear businessmen, entrepreneurs, civic activists of Kyrgyzstan and everyone who wants to help our citizens, please make a contribution to the mass diagnosis of COVID 19.
Read the details of the project on our website and in the social networks of the Foundation -
Instagram of Apake Foundation and Facebook of Apake Foundation