APAKE IS ORGANIZING FREE CONSULTATIONS FOR ONCOLOGICAL PATIENTS FROM LEADING DOCTORS FROM SUNKAR Oncology Center.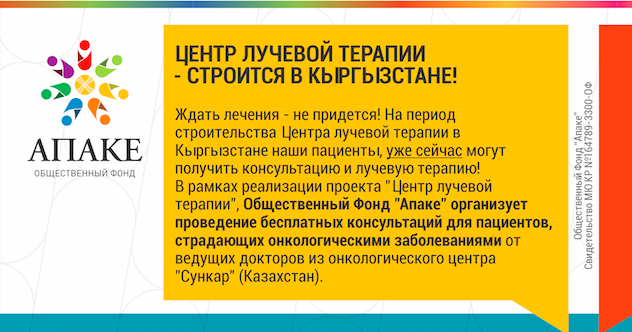 18 June 2018
Wait for treatment? Not anymore! For the period of construction of the Radiotherapy Center in Kyrgyzstan, our patients can now receive advice and radiotherapy!
As part of the Radiotherapy Center project, Apake Foundation is organizing free consultations for patients suffering from cancer from leading doctors at Sunkar Oncology Center (Kazakhstan).
After consultation, if radiotherapy is necessary, patients are given a referral to Sunkar Oncology Center to receive the treatment with special discount!
Apake Foundation, in partnership with Mol Bulak microfinance organization, provides:
1. Subsidized financial support under Islamic principles of banking to pay for the treatment of patients at Sunkar Clinic, with repayment period up to 12 months.
2. Free comfortable transportation of patients along the route Osh-Bishkek-Almaty (or Bishkek-Almaty) and back.
3. Free food and accommodation for the period of treatment of our patients at Sunkar Oncology Center.