About the results of the project with "Bonetsky's laboratory"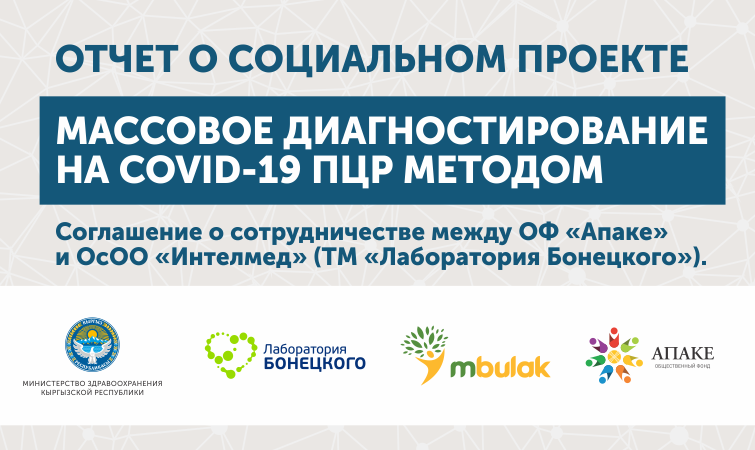 22 September 2020
Briefly about the project
Dear our readers!
Accept the report on COVID-19 Mass Diagnosis project aimed at preventing COVID-19 pandemic in Kyrgyzstan. Considering the impending spread of coronavirus infection at the end of March 2020 and realizing the global threat from the coronavirus infection (COVID-19) pandemic, the Ministry of Health of the Kyrgyz Republic proposed to Intelmed LLC (Bonetsky Laboratory TM) to assist in laboratory diagnostics and direct joint efforts to counter COVID-19 in order to restore stability in the country. In this regard, the Ministry of Health and a group of Kyrgyz businessmen signed a Memorandum.
Project results
Our foundation also did not stand aside! In partnership with "M Bulak" company, the General sponsor of this project, we decided to help and provided charitable assistance to "Bonetsky Laboratory" for a total of 8,094,000 soms. The main goal of our initiative was to finance the purchase of PCR tests and reagents, as well as related materials and personal protective equipment for research for citizens at risk.
As a result, more than 3.6 thousand tests were carried out in 41 organizations, for the amount of 8 million 93 thousand soms.
Thanks
We thank our entrepreneurs and businessmen for the initiative, quickly rallying against the threat of infection of our citizens!
We thank each employee of the "Bonetsky Laboratory" for their selfless work and dedication during the "hot time" of COVID-19 epidemic in our country!
We thank everyone who responded, trusts and supports our projects!