"Start to change your life!"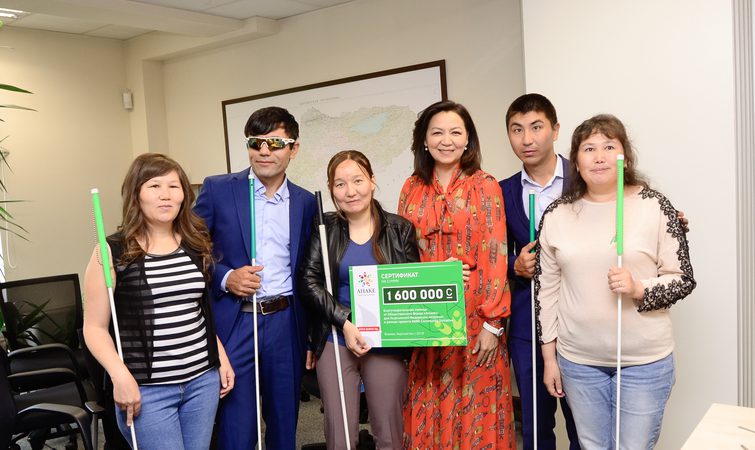 10 June 2019
"Start to change your life!"
A new social project by Apake Foundation.
Today, June 10, 2019 officially launched a new social project of "Apake" Foundation. The author of this initiative was Kyrgyz Federation of the Blind. The leaders of this public association are Gulnaz Zhuzbayeva and Zhalaldin Abduvaliev. They personally have overcame all the difficulties of the life of the blind, under the motto "Start to change your life!". Gulnaz and Zhalaldin implement a free modern educational program for people with visual impairments.
Thanks to modern adapted technologies, using a multi-subject program, based on the campus model, with full immersion into society, blind people will strengthen self-confidence, will be motivated to get a profession, will inspire other PWDs who have lost their meaning in life by their example.
Our Fund, thanks to the financial support from General Partner Mol Bulak Company, has allocated funds for the implementation of this annual project. In addition, we have been given the honor of becoming a member of the Supervisory Board of Kyrgyz Federation of the Blind, in which we will help the Federation to have a vision and perspective for the future.
Other sponsors, such as Nomad Sport and the team of the European Bank of Reconstruction and Development, "EBRD Community initiative" led by Bakai Zhunusov, also provided charitable assistance to Kyrgyz Federation of the Blind in this project.
We thank to all those who expressed their civic engagement and made their own contribution to this unique and inspiring event. We urge all those who are not indifferent to join the active promotion and mobilization of the public to this topic. We are open for any proposal that will improve and strengthen our initiative.
We wish success to all of us and interesting creative work!
The project duration is two courses for half a year, only 1 year (from June 2019 to July 2020).
The number of project participants is 22 blind people.
The amount of sponsorship from the Fund is 1,600,000 soms.
Participation conditions for blind candidates - passionate motivation to start living differently!
#начнижитьиначе #проектыапаке #фондапаке #vbishkeke #kyrgyzstan