"START TO CHANGE YOUR LIFE!" is in action!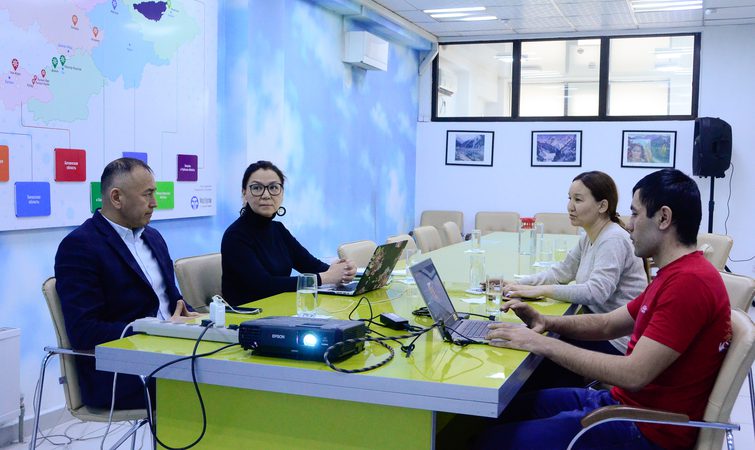 04 February 2020
Supervisory Board of the Kyrgyz Federation of the Blind
Yesterday, February 3, 2020, we held the annual meeting of the Supervisory Board of the Kyrgyz Federation of the Blind. The Executive Director, Gulnaz Zhuzbaeva has made a presentation on the successful completion of the first part of the project. She has also made a report on the selection of participants of the second group. Successful activity under the project inspired the guys to further develop the school and infrastructure of the Federation, which we will share with you about.
Each project supported by our Foundation has the goal of being long-term and sustainable. The General Sponsor of the Foundation, "Mol Bulak" microfinance organization, having decided to support this initiative, set a goal to employ capable graduated blind students. And so, the best student of the first group of the Half-Year Program for Adult Blind Social Adaptation Elvira Ymanbek Kyzy works at the Mol Bulak call center. Mol Bulak IT developers, call center managers, Federation instructors and Elvira herself made a lot of efforts and resources to fulfill the dream of people with disabilities to become part of a corporate team. According to the performance indicators of the first month, the newcomer operator Elvira is in the top three leaders. That means she gets a good bonus program!
We are pleased to inform that our Foundation Advisor, Rano Babadjanova, a successful leader of the restaurant business in Kyrgyzstan, has also employed the three best graduates of this program in one of Bishkek's restaurants.
We thank everyone for the participation in improving the social life of our citizens!
Join Apake Foundation and do good projects with us!