RESULTS OF THE "LIBRARY OF GOODNESS" project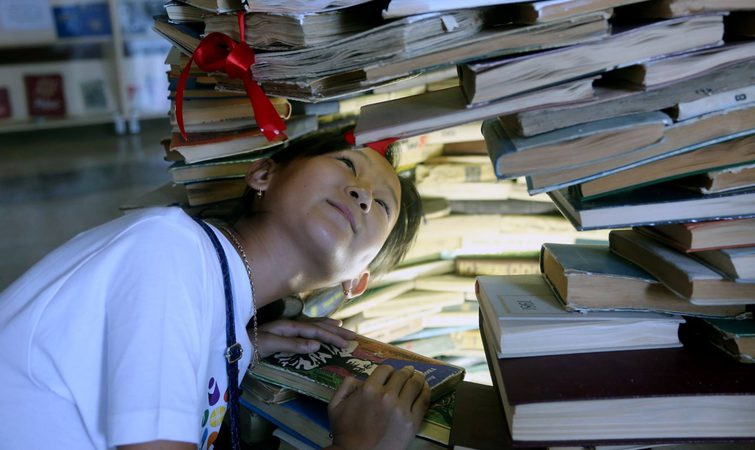 03 July 2017
Video presentation of The "Library of goodness" project. We want to share with you wonderful and good news, or rather the whole story of adventures of our young illustrators from Kulundu village in Bishkek. As you remember, in April, Apake Public Foundation provided the library with books and held a drawing competition with prizes in Kulundu village. For this, our special thanks to Kut-Aalam publishing house and its general director Dzhaparova Begayym Bakasovna. We purchased high quality books for the library from them, they also helped to stimulate children's interest in reading. Thank you for the discount!
Here you can see - Video presentation of the "LIBRARY OF GOODNESS"!
We would like to thank the company "Shoro" for a fascinating tour in the laboratory, in particular the manager Nargiza, for an interesting lecture on creation of shoro drink and for delicious refreshments for schoolchildren :) Shoro Company
Thanks to fairy artist Marina Mokropolova from «Ololohaus» for a free master class. Our little guests from Batken were inspired by the new and magical drawing technique, they spent very good time in a creative and cozy atmosphere for about an hour and a half. @ololoartstudio
Thanks to the manager of Dodo Pizza Kyrgyzstan Zina Kabylbek kyzy, guests from Kulundu had the opportunity to feel like chefs and make pizza themselves! By the way, guys tried it for the first time, thank you Dodo Pizza for the warm welcome and delicious pizza! @dodopizzakg
Our thanks to the network of cinemas Cinematics Kyrgyzstan and the director Aytbayev Akylbek Sadigalievich for providing 50% discount on tickets for a cartoon session in 3D. Before that, our young participants had never been in the cinema, for them it was something completely new and exciting, and now they have a dream - to open a cinema in Batken! Thanks to Lira and Aidai for assistance in this good deed! @cinematica_kg
Our final visit was to SOS Children's Villages Kyrgyzstan, where the resident-children looked forward to meeting visitors from Batken. Kids had team games and relay races, after which the participants quickly became friends. Then we were waiting for a delicious dinner in one of the cozyest houses of the SOS village. Thanks to the director of SOS village, Oksana Orozbaeva and manager Indira Mambetalieva for the warm welcome. @kyrgyzstan_sos. Thank you for holding interesting team games to Dushebekova Nazira, Ksenia Avdeeva, Elisa Tursunbekova, Aybek Akzholov.
And finally, young illustrators from Kulundu spent two nights in a comfortable and cozy guest house Viva for, which offered us a large discount and provided young participants with tasty and filling breakfasts.
And many thanks to the Deputy of the Interior Affairs of the Kyrgyz Republic Almazbek Kydyrbaevich Orozaliyev, thanks to whom our children safely reached home with police escort and for ensuring a safe path for the children along the Osh-Kulundu route. Many joined in the course of Good Library project and everyone helped as much as they could. So we became good partners and all contributed our part to this project.
#BibliotekaDobra #Apake