The results of the primary round of the essay competition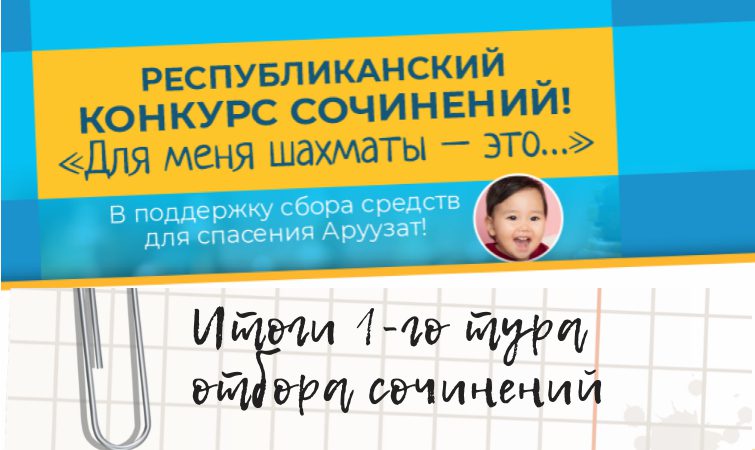 09 February 2022
Dear participants of the Contest! We sincerely thank you for your active participation in the chess essay competition. We've had a lot of fun looking at your work. Some of the writings evoked a wave of warm emotions from your memories and extraordinary figurative comparisons. We checked all 258 compositions.
Criteria for the 1st round of selection
The primary selection was based on the following criteria:
Text uniqueness.
Text volume.
Literacy of the text.
Thus, a total of 86 essays went through to the second round. As you remember, we divided the participants into three groups: Schoolchildren. Students. Adults.
We are grateful for your kind hearts and your donations to save Aruuzat Tashmatova, who needs to be cured of a rare disease.
So, there is a list of those who participate in the further competition for the best essays!
List of participants of the 2nd round (SHORT LIST)
Schoolchildren
1 Абаева Аяна Абаевна (Ш)
2 Алмазбеков Надырбек Алмазбекович (Ш-к)
3 Арзыбекова Сезим Асылбековна (Ш-к)
4 Асанова Самира Кубатовна (Ш)
5 Байсан Садыбакас (Ш)
6 Бактыбаев Нурдөөлөт Кубанычбекович (Ш-к)
7 Бейшекова Раяна Бакытбековна (Ш)
8 Бопоев Арстанбек (Ш)
9 Дуйшонбекова Айгерим (Ш-к)
10 Жаныбеков Акылбек Жаныбекович (Ш)
11 Жусупова Элдана Болотбековна (Ш-к)
12 Закирова Дарика Азаматовна (Ш)
13 Ибрагимова Бегимай Саипжановна (Ш)
14 Исакулова Фарида Жылдызбековна (Ш)
15 Кадырова Умутай (Ш)
16 Казымалиев Бакдоолот Нурбекович (Ш)
17 Капаров Марат Ысламбекович (Ш)
18 Карыпбаев Алтынбек Алмазович (Ш)
19 Кемелов Мурас Узарович (Ш)
20 Кенжебаев Анан Ахмедович (Ш)
21 Кубанычбеков Эльдияр Кубанычбекович (Ш)
22 Курманбаев Эрхан Урматбекович (Ш)
23 Маатмуратов Алихан Ильясович (Ш)
24 Маматаев Азирет Уланович (Ш)
25 Маматалиева Малика Нурбековна (Ш)
26 Синяева Таня Ахмадовна (Ш)
27 Тагайбекова Айсалкын (Ш-к)
28 Тажималыев Эмир Болотбекович (Ш)
29 Ташматов Адилет Нурланбекович (Ш-к)
30 Тургунбаев Исхак (Ш-к)
31 Шухратбеков Сардорбек Шухратбекович (Ш)
Students
1 Абаева Аяна Абаевна (Ш)
2 Алмазбеков Надырбек Алмазбекович (Ш-к)
3 Арзыбекова Сезим Асылбековна (Ш-к)
4 Асанова Самира Кубатовна (Ш)
5 Байсан Садыбакас (Ш)
6 Бактыбаев Нурдөөлөт Кубанычбекович (Ш-к)
7 Бейшекова Раяна Бакытбековна (Ш)
8 Бопоев Арстанбек (Ш)
9 Дуйшонбекова Айгерим (Ш-к)
10 Жаныбеков Акылбек Жаныбекович (Ш)
11 Жусупова Элдана Болотбековна (Ш-к)
12 Закирова Дарика Азаматовна (Ш)
13 Ибрагимова Бегимай Саипжановна (Ш)
14 Исакулова Фарида Жылдызбековна (Ш)
15 Кадырова Умутай (Ш)
16 Казымалиев Бакдоолот Нурбекович (Ш)
17 Капаров Марат Ысламбекович (Ш)
18 Карыпбаев Алтынбек Алмазович (Ш)
19 Кемелов Мурас Узарович (Ш)
20 Кенжебаев Анан Ахмедович (Ш)
21 Кубанычбеков Эльдияр Кубанычбекович (Ш)
22 Курманбаев Эрхан Урматбекович (Ш)
23 Маатмуратов Алихан Ильясович (Ш)
24 Маматаев Азирет Уланович (Ш)
25 Маматалиева Малика Нурбековна (Ш)
26 Синяева Таня Ахмадовна (Ш)
27 Тагайбекова Айсалкын (Ш-к)
28 Тажималыев Эмир Болотбекович (Ш)
29 Ташматов Адилет Нурланбекович (Ш-к)
30 Тургунбаев Исхак (Ш-к)
31 Шухратбеков Сардорбек Шухратбекович (Ш)
ADULTS
1 Абдураимов Акболуш Заирович (В)
2 Абдурасулов Майрамбек Хакимжанович (В-к)
3 Абдыкайым уулу Акылбек (В-к)
4 Абдырахманова Айдай Исмаилбековна (В-к)
5 Алманбет кызы Нуриза (В-к)
6 Алыбаков Улан Аскарбекович (В)
7 Батырбеков Арстаналы Сарыбаевич (В-к)
8 Жумашева Зейнеп Базарбаевна (В)
9 Кадыралиева Жанылай Кадыралиевна (В)
10 Калыбек Камила (В)
11 Касымбаева Гульзат Кадыровна (В)
12 Кубат уулу Эрмек (В-к)
13 Мусаева Шахнази (В)
14 Намазбекова Айкерим Орозобаевна (В)
15 Омурзаков Азамат (В)
16 Ракматалиева Салкынай Ракматалиевна (В-к)
17 Сабыркулова Бегайым (В-к)
18 Сейдакматов Уларбек Сабирбекович (В)
19 Токтосунова Элана Исаевна (В)
20 Тургумбаева Жылдыз Джапарбековна (В)
21 Турдубаева Наргиза Атантайовна (В-к)
23 Усманова Зарина Борисовна (В)
23 Шайназарова Чолпон Усеновна (В)
24 Шакенова Жибек Бактыбековна (В-к)
25 Шаршембиев Жыргалбек Сабырбекович (В)
26 Эркинбаев Бактыбек (В)
27 Эсенгулов Калыс Урматович (В)