Media about The project for construction of the Radiotherapy Сenter in Kyrgyzstan: Zanoza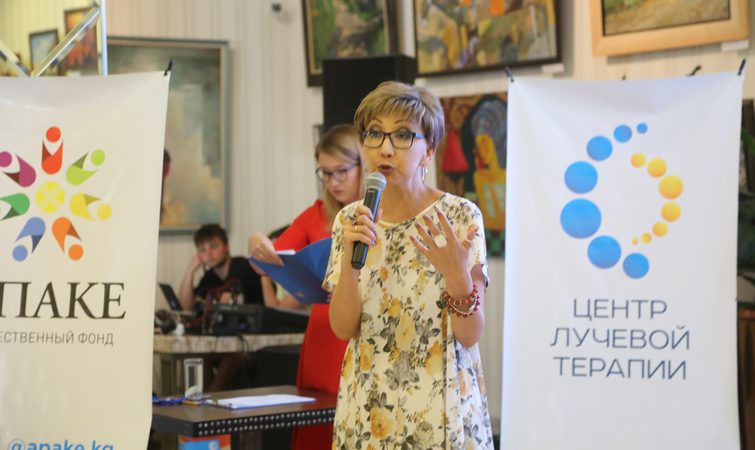 26 June 2017
Media about us: Zanoza
Yesterday, June 23, Apake presented a project for construction of the Radiotherapy Center in Kyrgyzstan. The project involves construction of a modern center, where radiotherapy will be conducted for cancer patients on high-tech equipment. The preliminary cost of the project is 10.5 million dollars
Reference
About 5 thousand cancer patients are detected annually. Malignant neoplasms are in the second place among the causes of death of Kyrgyz people. Due to late diagnosis and lack of modern equipment, more than half of diagnosed cancer patients die within an year. The number of children with cancer is also growing.
"I am very happy and have patriotic feelings, because it has never been in the history of Kyrgyzstan, that the business environment was the initiator of helping sick people. The state has adopted a law on public-private partnership, but not everyone understands it. I am sure that this project will work. And the government is ready to help with this. The state, unfortunately, is not able to purchase this equipment for treating cancer patients. The construction of the Radiotherapy center will be a good message for citizens and the businesses that it is time to stop waiting for the state to do something, it is time to take action, "said Deputy Prime Minister Cholpon Sultanbekova in the welcoming speech.
TV presenter Saltanat Samatova shared that she is one of those interested in seeing the center emergence in Kyrgyzstan.
"I have been treating cancer for five years. I cannot get high-tech assistance in the country, because there is no equipment, and I have to go to Turkey every three months. It's very expensive. It's good that I saved some money, my colleagues, friends and those who know me help me. If we had such a center, we could save a lot of people. Those who have no money are now just waiting for death. "
The chairman of the supervisory board of Apake, the initiator of the project, Babur Tolbaev, held a detailed presentation of the fundraising plan and construction of the Radiotherapy Center.
"This is a national-scale project. We want to unite all businessmen of Kyrgyzstan and implement the project with the modern "ashar" method (collecting the necessary funds from the whole world, carrying out work, building buildings on our own). Every month we will be able to save hundreds of people with cancer. Cancer is younger, the average age of patients is going down. There is a need for a modern medical center, where we can cure it. And we will concentrate on radiotherapy, "explained Babur Tolbaev.
Initiator of the project said that at the moment there is no modern equipment in the country.
"We want to install two linear accelerators. On average, a person gets 23 fractions, (irradiation sessions), and machine is a machine after all. If one accelerator stops working for any reason, we cannot make sick people wait. Even if we have to work in three or four shifts, the patients should receive the necessary procedure on time", he said.
We expect first profits in 6th or 7th year of the operation. Any profit which will remain after repayment of loans, will be directed to cancer prevention, diagnosis and purchase of new equipment.
According to Babur Tolbaev, one businessman donated a land plot for the construction of the center, in addition, there is a discount from a construction company. Initially it was planned to attract $ 2 million from the business community with the condition of returning the investments. For the remaining amount of $ 8.5 million, the project initiators intend to apply to local and international financial institutions, funds, and European banks.
"We called the businesses of Kyrgyzstan. If at least 17 people agree to contribute $ 100,000, we will be ready to start," concluded Babur Tolbaev, Chairman of the Supervisory Board of Apake.