Donations to the KSMA clinic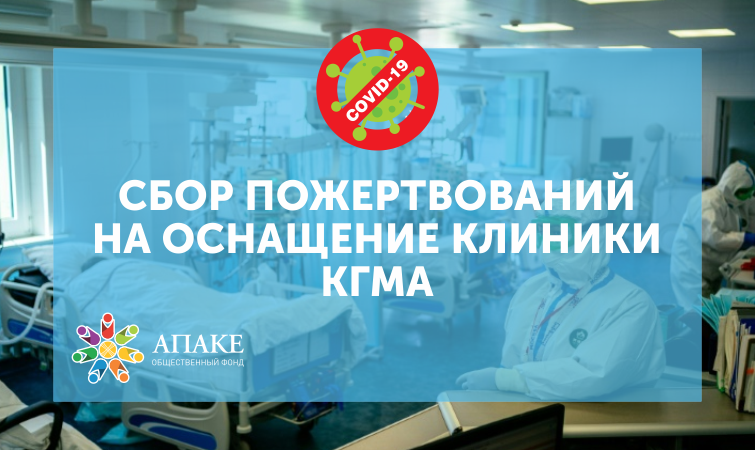 About the project
At the initiative of the Chairman of the Fund's Supervisory Board, Babur Tolbaev, our foundation opens crowdfunding to equip a temporarily created hospital for patients who need hospitalization after coronavirus infection. This initiative is carried out jointly with the Kyrgyz State Medical Academy, which allocated two dormitory buildings for 200 beds and a team of medical personnel.
About the budget
The budget for the costs of 200 patients maintaining includes medical equipment and personal protective equipment for doctors. The total amount of expenses is more than 17 million soms.
Apake Foundation covers the costs of purchasing medicines, organizing health-improving recreation for doctors of the KSMA clinic and paying a one-time remuneration for doctors working in the "red zone" of the KSMA clinic.
About crowdfunding
Everyone who wants to help can make a feasible contribution by choosing any convenient method and channel:
You can make a donation through
online application OPTIMA24 corporate card of PF "Apake" - 4169 6151 8651 8050
online application ELKART MOBILE corporate card of PF "Apake" - 9417 2070 5951 2938
ELSOM electronic wallet, section "Charity", logo of PF "Apake"
holders of VISA and ELKART bank cards can donate directly to our website
The fund's bank account in dollars, tenge and rubles in the OPTIMA bank is HERE! or see below in the text:
ПЛАТЕЖНЫЕ РЕКВИЗИТЫ в ОАО «ОПТИМА БАНК» (ИНН: 02402201710139, ОКПО: 29786820, УГНС: 004, Первомайский район, Рег.№СФ: 101000601467)
USD

Для зачисления в долларах США

:56A INTERMEDIARY BANK:

The Bank of New York Mellon,

New York, USA

SWIFT: IRVTUS3N

:57A BENEFICIARY BANK:

Account: 8900057610

Sberbank,

Moscow, Russia,

SWIFT: SABRRUMM

:59 BENEFICIARY:

A/c: 30111840700000000415

Optima Bank OJSC, Bishkek, Kyrgyz Republic

SWIFT: ENEJKG22

:70 DETAILS OF PAYMENT:

Общественный фонд "Апаке", 1091805278810115 purpose of payment (for what, contract #, date)
KZT

Для зачисления в казахстанких ТЕНГЕ

:56A INTERMEDIARY BANK:

АО «АТФБанк»,

г. Алматы, Казахстан

БИН 951140000151

БИК/SWIFT ALMNKZKA

ИИК KZ87125KZT1001300216

в РГУ «Национальный Банк Республики Казахстан» (БИК NBRKKZKX)

:57A BENEFICIARY BANK:

Сч. № KZ72826A0KZTN1000030

БИН: 150650000878

ОАО "Оптима Банк",

г. Бишкек, Кыргызская Республика, SWIFT: ENEJKG22

:59 BENEFICIARY:

Общественный фонд "Апаке", 1091805278810115

:70 DETAILS OF PAYMENT:

Назначение платежа (за что, номер инвойса, контракта, дата)

Обязательно указать KНП (код назначения платежа)
RUB

Для зачисления в российских РУБЛЯХ

:56A INTERMEDIARY BANK:

ПАО Сбербанк,

г. Москва, Россия

SWIFT: SABRRUMM012

БИК 044525225, ИНН 7707083893

К/счет № 30101810400000000225 в ГУ Банка России по ЦФО

:57A BENEFICIARY BANK:

Сч. № 30111810400000000415

ОАО "Оптима Банк",

г. Бишкек, Кыргызская Республика, SWIFT: ENEJKG22

:59 BENEFICIARY:

Общественный фонд "Апаке", 1091805278810115 и адрес (г.Бишкек, ул.Турусбекова, д.13)

:70 DETAILS OF PAYMENT:

Назначение платежа (за что, номер контракта, дата)

Обязательно указать VO (код вида валютной операции)
Media Publications
Donations
| Date | Bank details "Apake" PF | Amount of donation |
| --- | --- | --- |
| 19.08.2020 | Асел И. | 2000.0 |
| 30.07.2020 | Абдувахидов Мухамадризо Сайипжанович | 10000.0 |
| 30.07.2020 | Гульбайра Алижановна М. | 300.0 |
| 29.07.2020 | ЗАО "Партнер Кей Джи" | 50000.0 |
| 29.07.2020 | Офис Братиславский, Москва, Россия | 16350.0 |
| 27.07.2020 | Нурбек Айбашов | 1000000.0 |
| 25.07.2020 | Гульбайра Алижановна М. | 500.0 |
| 22.07.2020 | Офис Киевский, Россия, М Булак | 26000.0 |
| 22.07.2020 | Ким Диана | 7000.0 |
| 20.07.2020 | Нургул Осмонбековна Б. | 2000.0 |
| 20.07.2020 | без имени | 2000.0 |
| 20.07.2020 | Асель И. | 2000.0 |
| 20.07.2020 | Эльзада Ишенбековна Д. | 1000.0 |
| 20.07.2020 | Чынгыз Курманбекович А. | 1000.0 |
| 20.07.2020 | Айчурок С. | 1000.0 |
| 20.07.2020 | Русалина Валерьевна К. | 1000.0 |
| 20.07.2020 | Тимур М. | 500.0 |
| 20.07.2020 | Бек А. | 500.0 |
| 20.07.2020 | Гульбайра Алижановна М. | 500.0 |
| 19.07.2020 | Нуржан К. | 540.0 |
| 19.07.2020 | Манас Д. | 340.0 |
| 19.07.2020 | Бактыгуль Т. | 330.0 |
| 19.07.2020 | Махабат Аийбхановна А. | 220.0 |
| 17.07.2020 | Сотская Зарина, ГО, Москва | 3000.0 |
| 17.07.2020 | Нурмамат Бактыбекович И. | 2000.0 |
| 17.07.2020 | Алия А. | 2000.0 |
| 17.07.2020 | Зебунисо Тагоевна Х. | 1630.0 |
| 17.07.2020 | Рустам Паттаевич Т. | 1630.0 |
| 17.07.2020 | Эльнура Т. | 1090.0 |
| 17.07.2020 | Альбина Алиевна К. | 1090.0 |
| 17.07.2020 | Шомахмад Шамсуллоевич Ш. | 865.0 |
| 17.07.2020 | Азамат Арзыбекови Б. | 500.0 |
| 17.07.2020 | Канышай Уланбековна Б. | 150.0 |
| 17.07.2020 | False | 100.0 |
| 16.07.2020 | ООО "МКК М Булак" (Москва, РФ) | 6464999.0 |
| 16.07.2020 | К. Ш | 3000.0 |
| 16.07.2020 | 8960259**26 | 500.0 |
| 16.07.2020 | Эркеайым | 400.0 |
| 16.07.2020 | Aleksei Belov | 100.0 |
| 15.07.2020 | Сотрудники Центрально-Уральский и Дальневосточный регион, М Булак, Россия | 45600.0 |
| 15.07.2020 | Жылдыз Маматургуновна Б. | 27250.0 |
| 15.07.2020 | Головной офис, Москва | 26000.0 |
| 15.07.2020 | Айнура Эрмаматовна Т. | 5000.0 |
| 15.07.2020 | Асаналиева Гульнура Джалаловна | 5000.0 |
| 15.07.2020 | Нурила Самаковна К. | 4000.0 |
| 15.07.2020 | Мария Кубанычбековна Э. | 2180.0 |
| 15.07.2020 | Нурмамат Бактыбекович И. | 2180.0 |
| 15.07.2020 | Махабат Асатиллаевна Т. | 2180.0 |
| 15.07.2020 | Денис Сергеевич А. | 1090.0 |
| 15.07.2020 | Бактыбек Турдубекович Б. | 1090.0 |
All donations for the project