NEWSPAPER knews - WE CAN SAVE LIVES: RADIOTHERAPY CENTER PRESENTED IN BISHKEK FOR ATTRACTING INVESTORS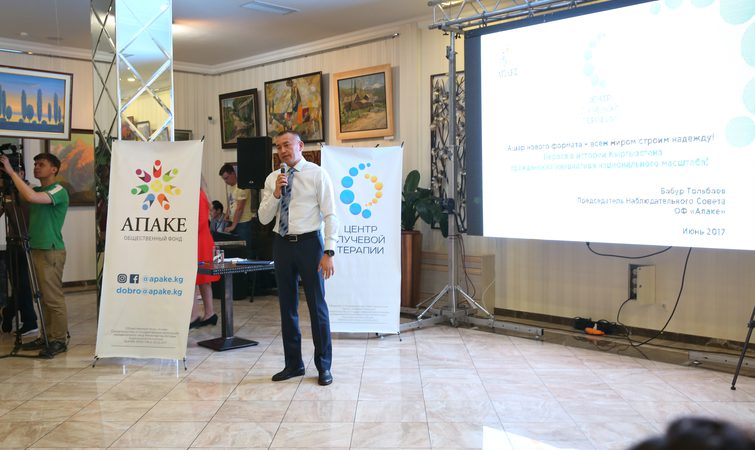 24 June 2017
Media about us: Knews
The initiators of the project are planning to build a modern center, where radiotherapy will be conducted for oncological patients on high-tech equipment at affordable prices.
The preliminary cost of the project is $ 10.5 million, of which $ 2 million is planned to be raised from financial institutions and social businessmen with the condition of return on investment. The remaining amount can be raised from large international financial institutions.
"We threw a call among business representatives of Kyrgyzstan. We already have land for building the center, we have guaranteed $ 100 thousand, the same amount comes from a commercial bank and a social entrepreneur. If at least another 17 people agree to make a contribution of $ 100 thousand, we will be ready to launch our project, "said Babur Tolbaev, chairman of the Supervisory Board of Apake.
According to the National Center for Oncology and Hematology, in 2014, 148 children were diagnosed with cancer, in 2015 - 190. About 600 children are being treated at the Center.
In total, about 5 thousand new cancer patients are detected in the republic, in 2015, oncologists had more than 25 thousand people registered in the patient database.
Deputy Prime Minister Cholpon Sultanbekova noted that the project to launch the center is an unique phenomenon for the country.
"The state budget cannot ensure the purchase of such expensive equipment. It is time to understand that we can solve this problem, "she said.
At the moment, patients from Kyrgyzstan have to travel to other countries to get radiotherapy, for example, to Turkey or Kazakhstan, but the costs are very high, and not everyone can afford it. As Saltanat Samatova, who has been struggling with cancer for 5 years, noted, people who cannot go for treatment, which is necessary at their stage, are just waiting for their death.
"I have to go to Turkey every three months, it's very expensive. It's good that I managed to save a certain amount, besides my colleagues and relatives help me. If we had such a center, we could save many lives. Now people are just waiting for their death, because in order to recover, they need a lot of money, which they do not have, "said Saltanat Samatova.
According to the project implementation plan, the average cost per treatment session will be $ 109, for comparison, in Russia such a procedure costs $ 173-220, in Kazakhstan $ 150-173.
If the center works in two shifts, it will be able to receive 1,560 patients per year. If it will work in three shifts - 2 thousand patients. At this rate, the project payback period is 5 years.
As a public activist Dinara Alyaeva noted, at the moment the pharmaceutical companies that produce drugs for chemotherapy do not supply them to Kyrgyzstan because of small volumes. In addition, she raised the question of the need to install a positron emission tomograph (PET) in the country.
"This tomograph will help diagnose cancer at an early stage, it will save thousands of lives. Late diagnosis is the same as death sentence, " said Dinara Alyaeva.
In support of the fundraising initiative for acquisition of linear accelerator, Apake Foundation was established by the founders: Babur Tolbaev, Rano Babadzhanova, Tatyana Vorotnikova, Almakhan Sagyndykova, Victoria Yurtaeva, Dinara Alyaeva, Eldiyar Kenensarov and others.